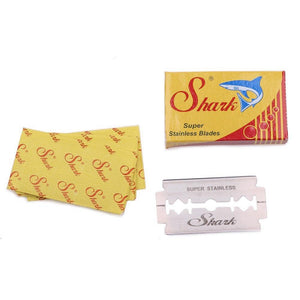 This is the perfect accompaniment to your Bamboo Safety Razor! The Shark double edge razor blades are produced using high-quality stainless steel for a barbershop quality shave at a fraction of the price.
Pair with our 100% natural and plastic-free shaving soap bar to discover a zero waste, zero guilt, shaving experience!
Specifications:

1 Pack contains  x 5 razor blades
Each blade is double edged and lasts for approx 16 shaves (8 shaves on each side)
The Perfect Starter pack for beginners
Directions for use:
Simply unscrew the razor head and place the blade between the metal pieces. 
Screw the razor head back on.
Shave when and as required.
After 8 shaves for each side, consider changing the blade.
Once 16 shaves have occurred, please dispose of the razors taking any necessary safety precautions.